Bin Transport Carts with HULK Containers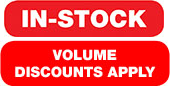 FOB - East Coast Warehouse
Bins Available in Blue, Yellow and Red
Modular in design, Bin Transport Carts provide an integrated system to transfer items.
Features:
Carts enable you to color code, hold or transport inventories and supplies.
Ideal for use in central supply and laundry.
Comes with HULK Containers.
Bins are autoclavable up to 250° F.
Cart Finish: Chrome.
If you need a large quantity of this product, call us at 1-800-338-1382 for additional bulk discounts!