Galvanized Pallet Truck - Alaska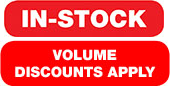 F.O.B. Anchorage, Alaska
Hot Dip Galvanized Pallet Trucks are ideal for meat, seafood, wines, dairy and pharmaceutical manufacturing industries.
Galvanized Pallet Trucks help to provide protection against corrosion if left outdoors or when working in wet environments and are the best choice to work in very low-temperature conditions.
Features:
Nylon wheels.
Hard chrome-plated ram and piston.
Equipped with overload value.
Ergonomic hand control.
Capacity: 5,500 lbs
Min. Fork Height: 3-1/4" inches
Max. Fork Height: 7.6" inches
Total Width: 27" inches
Fork Length: 48" inches
Weight: 180 lbs
If you need a large quantity of this product, call us at 1-800-338-1382 for additional bulk discounts!