Handy Holder Dispensers - Set of Two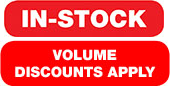 FOB: Oregon Warehouse

Prevents friction burns and aids in quickly dispensing shrink wrap.
Ideal for smaller jobs and quick wrapping.
Makes dispensing easier with tension control.
Just insert Handy Holders into cores.
Set of 2.
If you need a large quantity of this product, call us at 1-800-338-1382 for additional bulk discounts!