Stainless Steel Pallet Jack - Alaska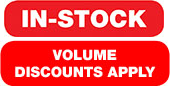 F.O.B. Anchorage, Alaska
The Stainless Steel Pallet Jack is designed for environments where hygiene is paramount or where the pallet jack will come into contact with corrosive substances such as salt water, acids, and various chemicals.
Ideal for meat, seafood, wines, dairy and pharmaceutical manufacturing industries.
Equipped with non-marking, smooth-rolling nylon wheels.
FDA and USDA regulations for food processing and packaging plants may require the increased sanitation and washdown capabilities this pallet jack provides.
Features:
Nylon wheels.
Hard chrome-plated ram and piston.
Equipped with overload value.
Ergonomic hand control.
Capacity: 5,500 lbs
Min. Fork Height: 3-1/4" inches
Max. Fork Height: 7.6" inches
Total Width: 27" inches
Fork Length: 48" inches
Weight: 180 lbs
If you need a large quantity of this product, call us at 1-800-338-1382 for additional bulk discounts!