Steel Strapping Seals - Standard Duty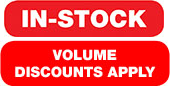 FOB: Oregon Warehouse

Use these with Stromberg Steel Strapping tools for all your strapping needs. Available in 1/2" and 3/4" configurations.

Open seals snap onto overlapping strap ends prior to or after tensioning. Used in applications with a flat working surface.
If you need a large quantity of this product, call us at 1-800-338-1382 for additional bulk discounts!